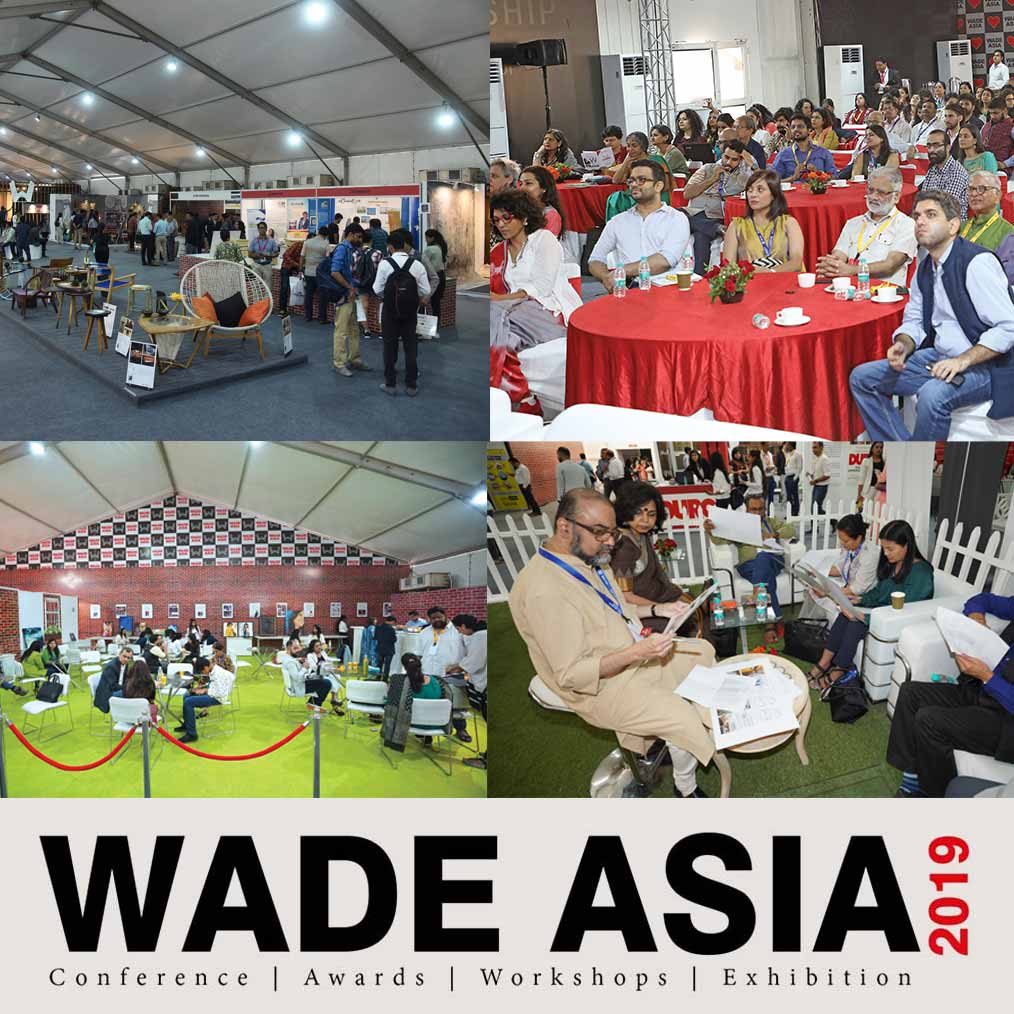 WADE ASIA® concluded its 4th edition on the 11th and 12th of October 2019 at the NSIC Grounds, New Delhi. It is Asia's first and largest collective platform for women Architects, Interior Designers, Artists and Engineers. WADE is about documenting the progression of Women in Architecture, Art, Design and Engineering. The annual celebration of WADE ASIA® saw massive turnout and has grown several times this year. The event commenced with the ribbon-cutting ceremony by Vijay Garg, President, Council of Architecture, along with Brinda Miller, Chandrashekhar Kanetkar, Dilbir Singh Bhui, Prashant Sutaria, Jaydeep Chitlangia, Babu Cherian, Pawan Garg, Annkur Khosla, Vivek Bhole, Sanjay Agarwal, Pragath Dvivedi and others amidst a 'dhol' performance by a woman dhol player. Interestingly, even the chauffeurs driving the guests from the main gate to the event entrance were all women.
One of the most enlightening features of the event was the keynote by renowned architect Shirish Beri on the topic 'Towards an Architecture of Goodness'. While women were the main focus with curated discussions such as Design Journeys of successful women architects and designers, WADE MasterClass with Mentors with some of the top women leaders in the industry, WADE ChangeMakers and more, one of the aims of WADE ASIA® is working towards a larger cause and making a difference. The initiative by WADE FOUNDATION – WOMEN WATER WARRIORS was a perfect example of involving women for a larger cause, 'Water'. More than 500 women stood together on ground forming a giant 'W', representing water awareness alongside creating a world record on 12th October 2019 at the same venue, NSIC Grounds between 8-9 AM. Water was also one of the key themes for presentations. Chitra Vishwanath presented on 'Architecture of Water & Waste' while Mittal Patel from VSSM Gujarat, known for reviving over 87 lakes in Gujarat shared her work.
"WADE ASIA® is an opportunity to make a difference." – Yasmin Shariff, Director, Dennis Sharp Architects, London.

"I think WADE ASIA® is a great breakthrough and surely set to increase geometrically and become more significant." – Rajeev Talwar, Chairperson, National Real Estate Development Council (NAREDCO) and CEO, DLF Ltd.

"I am really glad that women designers are getting a special platform like WADE ASIA® to express themselves. I would recommend people to come and participate, specially my female associates and architects and also my male associates because they also need to come and see what the women are doing!" – – Ar Shirish Beri, Kohlapur.