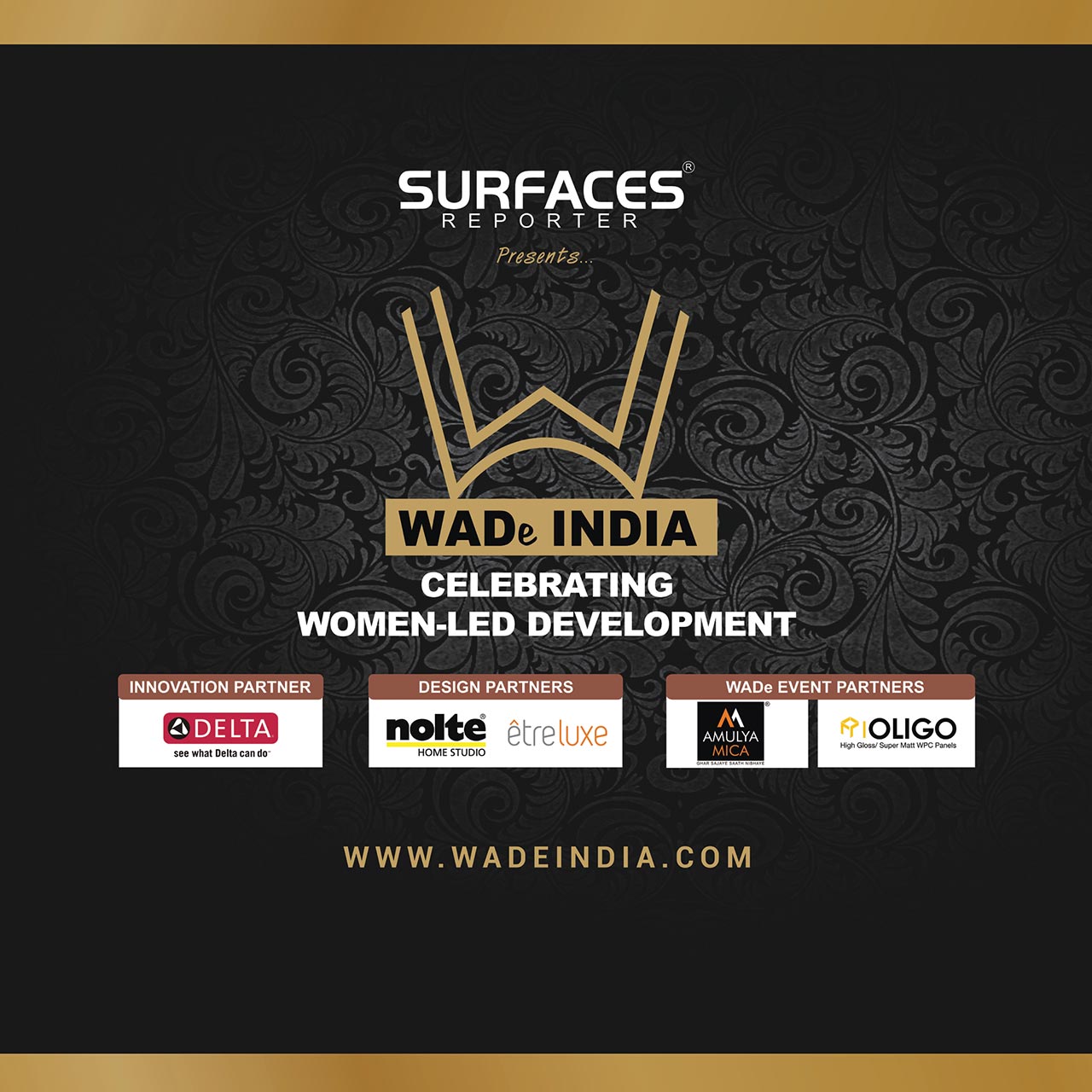 WADe India is a dedicated platform for woman architects and designers of India – the women entrepreneurs & professionals in Design & Architecture. The platform was successfully launched on 14 May 2016 at The Leela Ambience Gurgaon with the aim to recognize the Role Models & Emerging Young designers leading the women-led development and also to connect the professionals in a common space.
The idea of WADe India, the Federation for Women Architects & Designers, was born around the last quarter of 2012 when team of partner magazine Surfaces Reporter was researching to list the works done by past women architects & interior designers of India. They couldn't find much info; hence, the feature was cancelled. Truth is, there is no proper trajectory of work done by past women architects & designers of India. The Founder says, "So far as I remember, that was the 1st instance when my mind registered this gap, and I thought, the void needs to be filled." Mid 2015, through a formal declaration, the initiative was started by inviting nominations for Role Models.
WADe objectives have broaded as the work continued:
• Ensuring visibility of Women-led projects
• Bridging Mentorship between Leading & Aspiring Designers
• Standing by those who want to come back to the profession
• Encouraging, Sharing & Learning through Research
• Celebrating the Life, Work and Achievements of Women Architects &Designers
• Rewards & Recognition
The Launch event of WADE India
WADe India's launch event 2016 witnessed presence of 60+ high profile women designers and 200+ top designers from across India among the 350+ delegates. The superb turnout and the presence of delegates across demographics clearly indicate the success of WADe India. Interesting thing is, about 85% of the attendees were female and 24% of attendees were below 30 years of age. It shows how keenly the younger generation of women has been following WADe India.
At the WADe India launch event in Gurgaon, it was a wonderful sight to see the Top Women designers sharing the same space with the young emerging ones. Sussanne Khan and Zarine Khan was seen mingling with the delegates and clicking photos. Role Models were felicitated and the young designers were recognized later during the day.
WADe India event was inaugurated by none other than India's 1st & highest ranking woman IPS officer, Dr. Kiran Bedi. Lamp lighting was done by Dr. Bedi, Ar. Divya Kush, President IIA, Prof. Krishnarao Jaisim of Jaisim Fountainhead, Ar. Prem Nath and Mr Sarosh Wadia, Vice President, IIID.
Vertica Dvivedi, Founder of WADe India introduced WADe to the audience and invited Dr. Kiran Bedi for the opening speech which was apt for the audience.
The first panel discussion – Challenges for Women Designers to start own practice in India and the ways to overcome, had a strong set of panelists, Ar. Shiela Sri Prakash, Ar. Anupama Kundoo, Ar. Sonali Bhagwati, Ar. Parul Zaveri and Ar. Canna Panel, moderated by Anuradha Chatterjee. These leading women shared their stories of starting their own practice.
Ms. Chatterjee channelized the discussion beautifully onto layers of significant questions. The leading ladies shared their inhibitions, tough times and the rise. It was most inspiring for the young women to know the points from their Role Models that emerging women should consider while starting their own firm.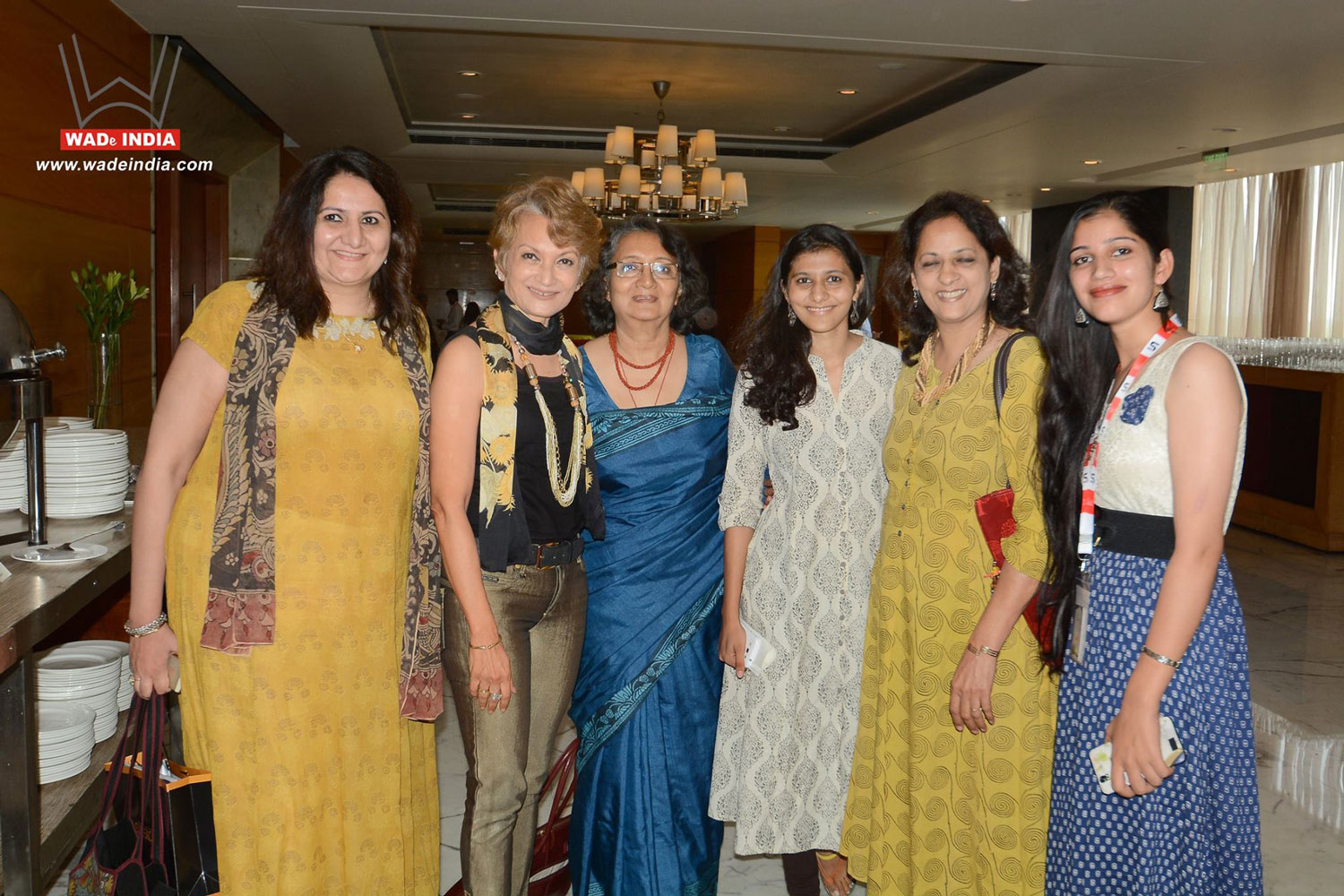 Chief Guest Dr. Najma Heptulla, Union Minister for Minority Affairs was unable to attend due to ill health. However the message that she sent for WADe India was read out, which was full of motivation for the audience.
A Perspective: Being Celeb Designers by Sussanne Khan & Zarine Khan was quite energetic, insightful, and left a great learning point for all working mothers when Zarine Khan said that life has no certainty and hence as a mother she left no stone unturned in making her daughters self-sufficient. Sussanne shared her experiences as an interior designer and the challenges of being a celebrity designer.
The third panel discussion was not only interesting but also insightful for couples working together in architecture & design business. A Retrospective: From the successes of MenWomen partnership firms & women only firms had prominent panelists Lalita Tharani & Mujib Ahmed, Krupa Zubin & Zubin Zainnudin, Santha & Kalhan Mattoo, and Annkur Khosla. The fun-filled discussion probably brought a good amount of learning points for panelists among each other and for the guests. It was moderated by interior designer Lipika Sud. A brief but stimulating session was there by Professor of Marketing, Ramendra Singh from IIM Calcutta on importance of Marketing & Promotion for Women Leaders in Architecture Design.
For special entertainment Vasu Primalni was on stage. It was hilarious and full of laughter. Vasu is the recipient of Nari Shakti Puraskar from the Government of India. She is also one of the top 3 female stand-up comedians of India, Triathlete, and Environmentalist.
Ar. Sanjay Puri, Principal, Sanjay Puri Architects, Mumbai, paid an emotional tribute to Ar. Zaha Hadid, the Queen Architect of this world and the 1st among women to win the Pritzker Prize, known to be the Nobel Prize for Architecture.
Hussain Kuwajerwala, Celebrity Television Actor & Anchor took over the stage with his warm & inviting presence. With every name of the Role Model, their vision, dream or the selected Roles they would play for WADe India was proudly announced. Vertica Dvivedi gave away the awards to the Role Models and Special Category, while Ar. Prem Nath, Ar. Divya Kush, Prof. Krishnarao Jaisim and Mr. Sarosh Wadia gave away the awards for the Emerging Category. The list of Role Models are posted in www.wadeindia.com which include names like Namita Singh, Sheila Sri Prakash, Anupama Kundoo, Sonali Bhagwati, Abha Narain Lambah, Sonali Rastogi, Parul Zaveri, Shimul Javeri Kadri, Chitra Vishwanath, Brinda Somaya, Lalita Tharani, Revati Kamath, Krupa Zubin, Santha Mattoo, Annkur Khosla, Nina Puri, Ponni Concessao, Seema Puri, Reny Lijo and Designers Sussanne Khan, Sunita Kohli, Raseel Gujral, Shabnam Gupta, Rupana Reddy and more leading names.
Among the Emerging are Farah Ahmed Mathias, Pritika Kinra, Priyanka Khanna and B. Shweta. Madhavi Desai and Gita Balakrishnan was felicitated for their Special contribution to the industry. The special award for Innovative Young Architected was an initiative by Delta, thus aptly named WADe Delta Innovative Young Architect Award. Audio Visual presentation by partners Nolte, Amulya, and Oligo were quite stimulating.
The event was concluded with a brief speech by Pragath Dvivedi, Director, Bigsea Marcom (I) Pvt. Ltd., appreciating the team for the successful launch of event and thanking the delegates for making WADe India feel so special.