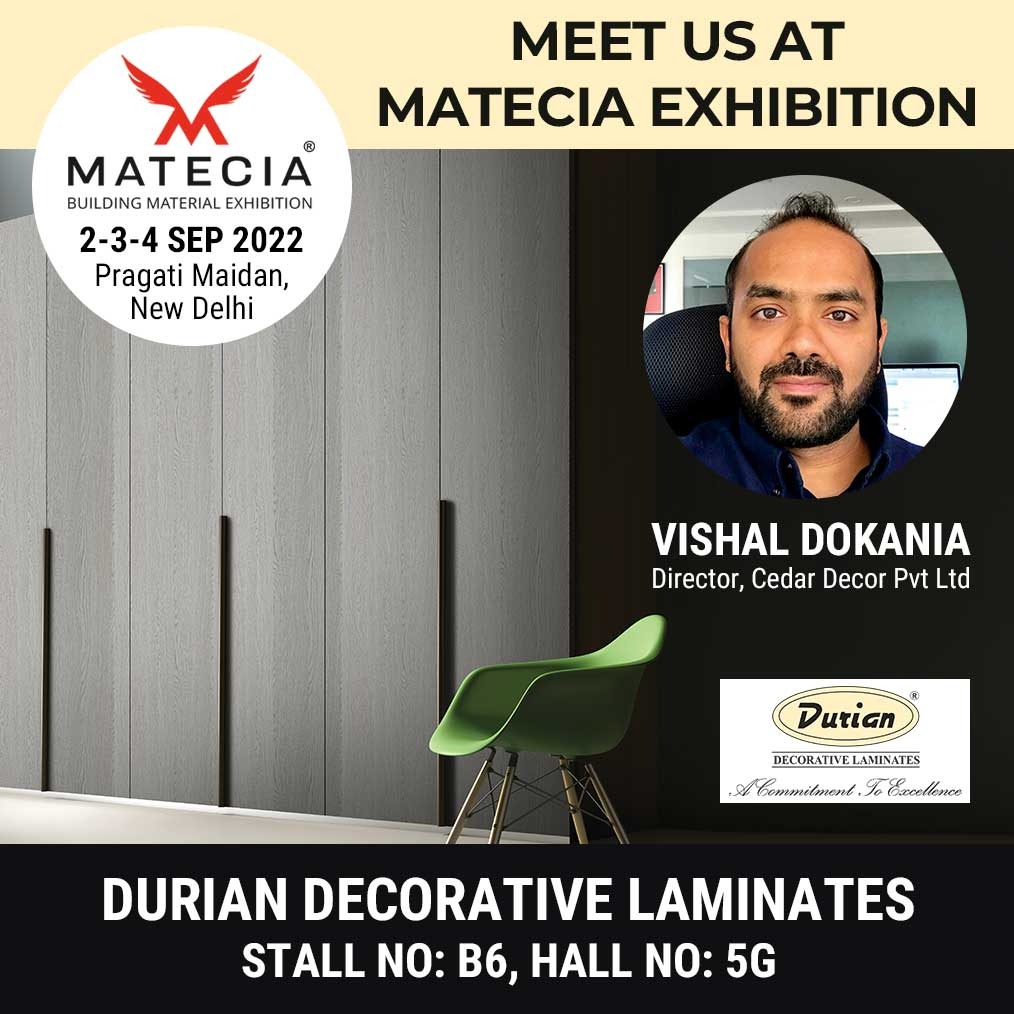 "First impression is the last impression." Inspired by this principal rule of the interior design industry, Durian started its state of the art factory for the manufacturing of wardrobe laminate design and Decorative High Pressure Laminates on 1st Feb 2006. Along with Decorative High Pressure Laminates, the factory is also equipped to produce Metal foil Laminates, Abrasion resistant Laminates, Dry Wipe Marker Board Laminates, Chalk Board Laminates, Post forming Laminates, Digital Printed Laminates, Screen Printed Laminates and Door Skins to name a few.
According to the brand, they are the first Indian Laminate Manufacturing Company to get accredited with the prestigious FSC Certification. It has also incorporated a 7–point Quality Control System to ensure that every single one of our laminate sheets goes through seven different quality control checkpoints during its production period. Also, the brand talks about taking extreme care in choosing the raw materials of the highest quality which is acquired from industry leaders throughout the world, including countries such as U.S.A., Italy, France, Germany, Belgium, Japan and Malaysia to name a few.
Importance of Technology
The factory is also equipped with a state-of-the-art chemical plant, which manufactures resins used in the production of laminates. Having a modern plant allows the R&D team to experiment with innovative materials to produce quality resins that will stand the test of time. As a result, the brand also claims to be the only brand in India to offer BFT (Borer, Fungus, Termite) Guard in our laminates.
The company understands the importance of technology, both in terms of the machinery used and also with regards to the processes that enable optimal working of the company and enabled us to supply our products to markets throughout India and also to countries in Europe, South-East Asia and the Middle East.
Message for MATECIA Visitors – Vishal Dokania, Director, Cedar Decor Pvt Ltd
"Durian Anti-Fingerprint and Anti-Scratch Laminates are flexible surface for you to decorate your interiors be it a horizontal or a vertical space, this laminate is easy to clean which makes it suitable to install in wet areas such as kitchens,washrooms and backyards. It is also popularly used in making furniture and interiors of heavy traffic industry such as offices, commercial buildings, healthcare, spas and malls. Anti-Fingerprint and Anti- Scratch laminates has a beautiful non-gloss texture that can fall prey to fingerprint marks, scratches and scuffs. It has a super smooth extra matt surface solution that is resistance to fingerprints as its non-porous top surface rejects the reflection of light and thus brings you a super matt Anti-Fingerprint surface! Durian anti-Finger and anti-scratch laminates are revolutionary matt laminates that will change the way you look at interior surfaces. It's a highly matt, zero-reflection surface, that is completely resistant to fingerprints and chemicals,making your surface lustrous and pristine."
Enter WADE ASIA 2023 through Sponsorship / Exhibition: Download the Details