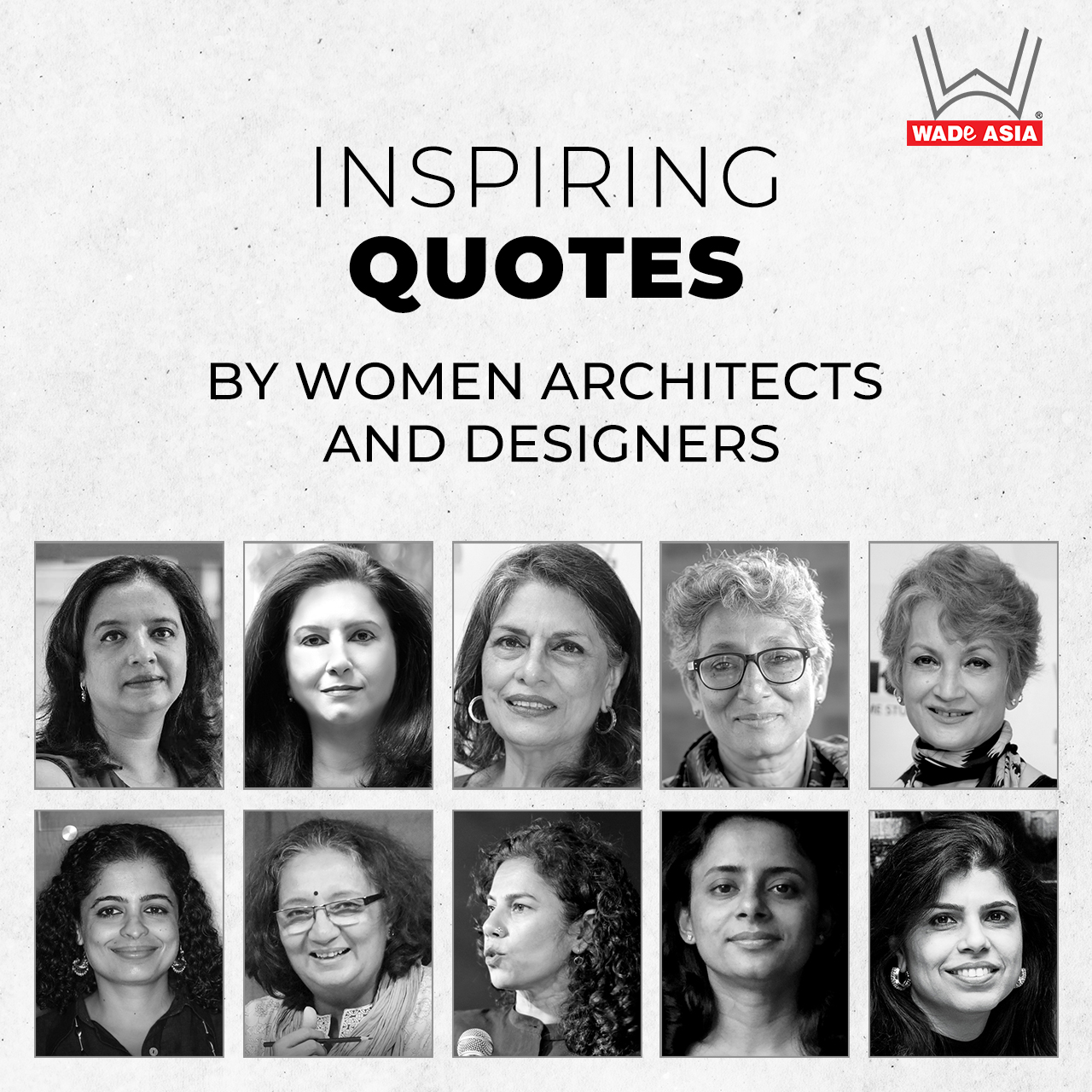 WADE ASIA feels delighted to share a glimpse of 10 inspiring quotes from top Indian Women Architects and Designers who are known for their trailblazing work, grit and determination.
1. Chitra Vishwanath, Architect, Founder: Chitra Vishwanath Architects, Managing Director: Biome Environmental Solutions
"Future of architecture lies in it being ecologically sensitive wherein it incorporates water, waste, energy, biodiversity, food and resources to build with." – CHITRA VISHWANATH
Chitra Vishwanath has been involved in more than 500 projects encompassing construction of buildings of all sizes and water harvesting and sanitation structures. With earth as a basic material input in construction she has designed and built many structures.
2. Shabnam Gupta, Interior Designer, Founder: The Orange Lane
"Design is not about just creating good looking spaces. As architects and designers, you have a certain responsibility towards society at large and the evolution of people's perception through your work. Realize that, live it and love your work." – SHABNAM GUPTA
Shabnam Gupta is one of the most awarded interior designers in the country and is known to conjure up visual wonders. Her designs exude energy and spirit in a delicate and subtle fashion, and her signature style has won her much global recognition and a long list of accolades for her projects at the national level as well.
3. Anupama Kundoo, Architect, Founder: Anupama Kundoo Architects, Spain
"My dream is to see a society of equal opportunities, without the stark social segregation, without poverty, hunger, homelessness, and where women can walk around anywhere and everywhere as safely and freely as men." – ANUPAMA KUNDOO
Architect Anupama Kundoo lives by the mantra, 'We cannot make time, but we can take time'. She sees time as a forgotten resource in architecture, while the latter is a process that embraces the present, the past and the future. Her basic design approach is to use "waste materials, unskilled labour and local communities".
4. Parul Zaveri, Architect, Founding Partner, Abhikram
"Women can learn a lot through sharing. By sharing their own good and bad experiences, women can inspire and support each other to help sharpen their skills." – PARUL ZAVERI
Ar. Parul Zaveri & Ar. Nimish Patel established Abhikram, a Planning, Architecture, Conservation and Interiors consultancy firm in 1979, with a view to explore design directions and processes, which make Built Environment, functionally, psychologically, environmentally and spiritually, more balanced, contextual and comfortable for the end-user.
5. RenyLijo, Architect, LIJO.RENY.architectsv
"Don't be caught up in the glitz and glamour of it all. It's a grave responsibility on one's shoulder to realize people's dreams and aspirations, to elevate society through better living through one's design/work. It is not to be taken lightly." – RENY LIJO
Founded in the year 2005, LIJO.RENY.architects is a multiple award winning design studio based in Thrissur, Kerala. It's their love for art that keeps them inspired to develop interesting contemporary sensibilities in the architecture they practice.
6. Sonali Rastogi, Architect, Founding Partner: Morphogenesis
"Once a woman starts to see life in the same way as architecture, it's actually a good analogy for each other in the way that one negotiates with the other to achieve a desired end result." – Sonali Rastogi
Sonali Rastogi is an Indian architect and co-founder of Morphogenesis— an architecture and urban design studio based in New Delhi, which she started with her partner Manit Rastogi. Morphogenesis is one of the most successful contemporary architectural practices in India that has gained global recognition.
7. Sonali Bhagwati, President: Designplus Architecture Pvt. Ltd.
"Architecture is the mother of all arts. See what is happening in the world but never forget the ethos of the place you are designing in." – SONALI BHAGWATI
Sonali Bhagwati has been practicing as an architect and an interior designer for over 30 years. She is known as a virtuoso in the industry. She has been extensively covered in digital as well as print media. She is an activist for urban reform and rejuvenation.
8. Seema Zarir Mullan, Architect, Seema Puri & Zarir Mullan Architects & Interior Designers
"Women work hard outside and within their homes, no area can be ignored, sometimes we have to work twice as hard to prove ourselves in this male-dominated society." – SEEMA ZARIR MULLAN
Seema and Zarir Mullan at SEZA believe that a design should rise and mould itself from the urban fabric while etching itself onto it and architecture, landscape and interior design should blend to remove the barriers between inside and outside.
9. Sunita Kohli, Interior Designer, K2India
"Be true to yourself, work hard and always try to stretch yourself to the highest achievable pinnacle of perfection, in this most imperfect of world." – SUNITA KOHLI
Sunita Kohli is an interior designer, architectural restorer and furniture manufacturer. She had restored and decorated Rashtrapati Bhavan (the President's House), Parliament House Colonnade (1985–1989), the Prime Minister's Office and Hyderabad House in New Delhi. She was awarded the Padma Shri by the Government of India in 1992.
10. Lalita Tharani, Co-Founder & Principal Architect, Collaborative Architecture
"To achieve something, be a perpetual student, a good observer, never believe that you have learned all." – Lalita Tharani
Lalita Tharani is the mentor, co-founder and principal of Collaborative Architecture. Lalita is passionate about women leadership in the profession. She has been part of various juries over the years and has spoken extensively on the works of the practice and design leadership, in various national & international events.
WADE ASIA is the world's largest award platform for women architects, interior designers, artists, and professionals in the built space. The annual event is from "18-20 AUGUST 2023 at PRAGATI MAIDAN DELHI. Operational since 2016, WADE ASIA is about recognizing the contribution of women in design, documenting their progression, and giving a grand common platform to women in creative pursuits to meet, network, learn and share.