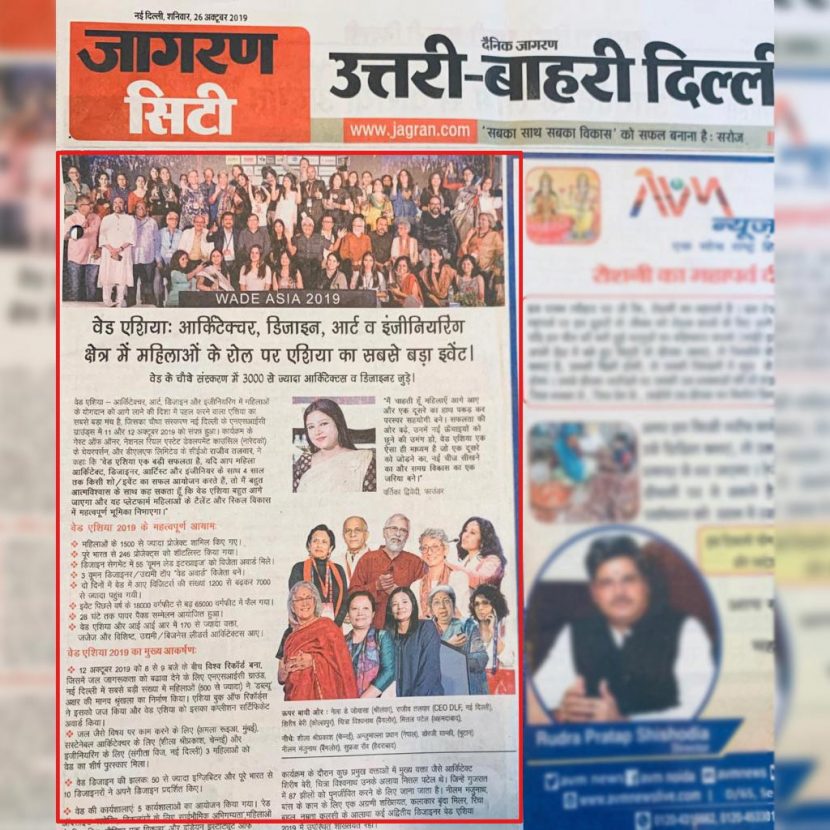 National newspaper Dainik Jagran covered WADE ASIA Architecture & Design Conference. Amidst a lot of joy, networking, conference, awards, workshops, WADE ASIA 2019 took place. It was the 4th year of Celebrating Women-led Developments in Architecture, Art, Design & Engineering in Asia.
WADE ASIA took place concurrently with IIR on the 11-12 October in New Delhi:
1500+ project entries submitted by women
246 shortlists from all over India
55 winner among women in design
3 Top Nominated WADE Award winners
Area grew from 18000 to 65000 sqft
28 Hours of Power Packed Conferences
170+ Speakers, Jury & Special Guests
Turnout rose from 1200 to 7000+ visitors
Guest of Honour, Rajeev Talwar, Chairperson, National Real Estate Development Council (NAREDCO) and CEO, DLF Ltd said: "I think WADE ASIA is a great breakthrough. If a woman entrepreneur can sustain a show for 4 years with women Architects, Designers, Artists and Engineers, to recognise the contribution of women, I am quite sanguine WADE ASIA is set to increase geometrically and become more significant in coming time."
About WADE Asia Conference & Awards
WADE ASIA is one of the most prestigious national conferences on Architecture, Design, Art and Engineering and the largest platform for women in design in Asia.
The 5th celebration of WADE ASIA's annual event will take place on the 09-10-11/ October/ 2020 at the NSIC Grounds, New Delhi with participation from INDIA and SOUTH EAST ASIA.
It happens concurrently with MATECIA Building Material Exhibition and IIR Conference & Awards. If you are working for the built environment or building material industry, you should NOT MISS attending WADE ASIA.
WADE has created a World Record in 2018 for the Largest W shape created on ground by all women, awarded by ASIA BOOK OF RECORDS.
Check out the photos of WADE ASIA 2019
A mega success story Check out WADE ASIA & IIR 2019 in a video
Here is a video that talks about the purpose of WADe ASIA.