She is one of the first women in India to have started her own architectural firm. She is chief architect of Shilpa Architects Planners Designers and a legendary Indian architect and planner with a stupendous international outreach – Sheila Sri Prakash. Today, she is also the first Indian architect to serve on the World Economic Forum's Global Agenda Council on Design Innovation. But her journey too has had its own bitter-sweet moments. Born in a family with defense background, she started learning Bharatnatyam at an early age which helped her find her focus and passion. Architecture was something that came naturally to her. She studied architecture at the Anna University, School of Architecture and Planning in Chennai. But the journey wasn't a smooth sail. "While getting interviewed at the University, I was asked by a professor that whether I would be depriving a boy of his career by taking his seat'!" She was baffled. "I was not prepared for that kind of an answer because I did not know what to say but I only could say no, I love architecture and I want to take it up as a career and today I think it has done something to me and kind of convinced me that I should positively pursue this as a career and very seriously," says Ar Prakash.
And this biasness was never-ending for the coveted architect. As a young girl completing her studies in 1977 she seemed too young to everyone she used to work with, including the masons. She reveals that convincing the masons of the specifics during a project was the toughest part, "The masons just could not digest the fact that it's a young girl commanding them back in those days." "So I had to convince the mason that I am a professional and listen to what I am saying, I know something," she adds. Most of them used to think 'she-isdoing- it-for-a-hobby' – while her employers would say that if I can't fire a woman architect, why hire them. "However, these only helped to reaffirm my own personal agenda and stay more focused on what I wanted to achieve," says Ar Prakash, who has gone through all that without losing her sheer determination and confidence.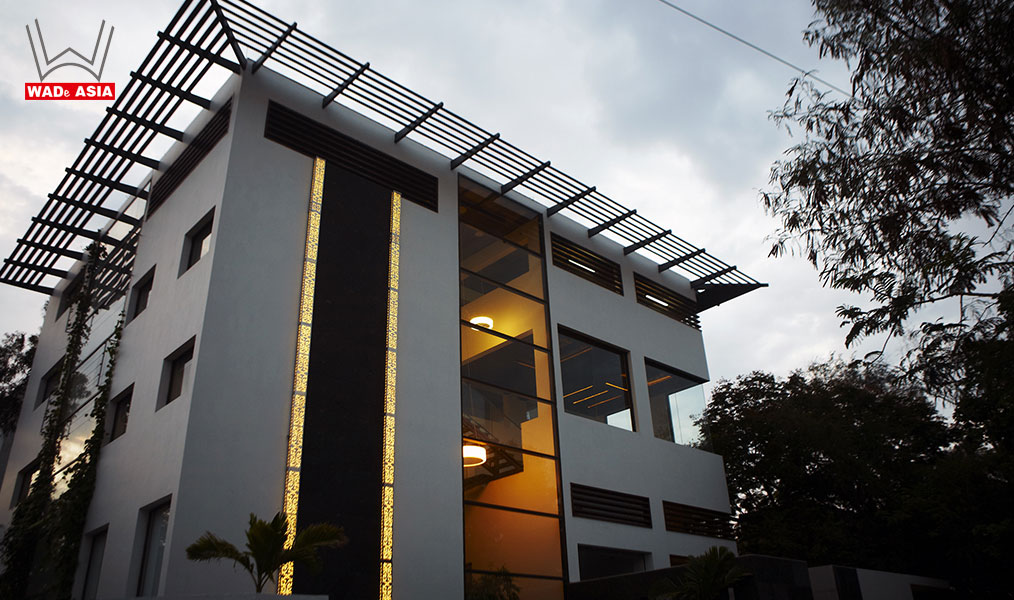 Ironically, when she started practice, she started doing things that even maybe her male counterparts wouldn't even think of doing. "In 1987 I did a house for EWS. It was a small little hut project for the economically weaker section. But today with due respect I think that opened out a complete new world for me" exclaims the architect about her very first project. And then there was no looking back. "I was in a position to take on to regular projects as well, the houses which were larger and today I understand how spaces are and there has been constant evolution and it has been a journey for me," reveals Ar Sheila Sri Prakash. "Seeing one project after what I thought was a disadvantage has actually proved to be an advantage for me. This is where I started thinking on cost efficiency, energy efficiency etc.," she adds.
She has always been inspired by Laurie Baker's works. She says, "Way back in 1983 when there was no green movement or anything like that, I was so inspired by Laurie Baker's work and coming from the South, I could gain access to a Cholamandal artist village which was 10 kms down from Chennai." She would often study how the masons work and it also brought her closer to the working class. She would observe how the local guys work, listen to the local guides and interact with them and also collaborate with them and see that they evolved into something different. That would give her and give them the confidence, it was a wonderful experience. She quotes that "We nurture our family so a nurturing environment is a very easy progression for us."
About WADE Asia Conference & Awards
WADE ASIA is one of the most prestigious national conferences on Architecture, Design, Art and Engineering and the largest platform for women in design in Asia.
The 5th celebration of WADE ASIA's annual event will take place on the 09-10-11/ October/ 2020 at the NSIC Grounds, New Delhi with participation from INDIA and SOUTH EAST ASIA.
It happens concurrently with MATECIA Building Material Exhibition and IIR Conference & Awards. If you are working for the built environment or building material industry, you should NOT MISS attending WADE ASIA.
WADE has created a World Record in 2018 for the Largest W shape created on ground by all women, awarded by ASIA BOOK OF RECORDS.
Check out the photos of WADE ASIA 2019
A mega success story Check out WADE ASIA & IIR 2019 in a video
Here is a video that talks about the purpose of WADe ASIA.