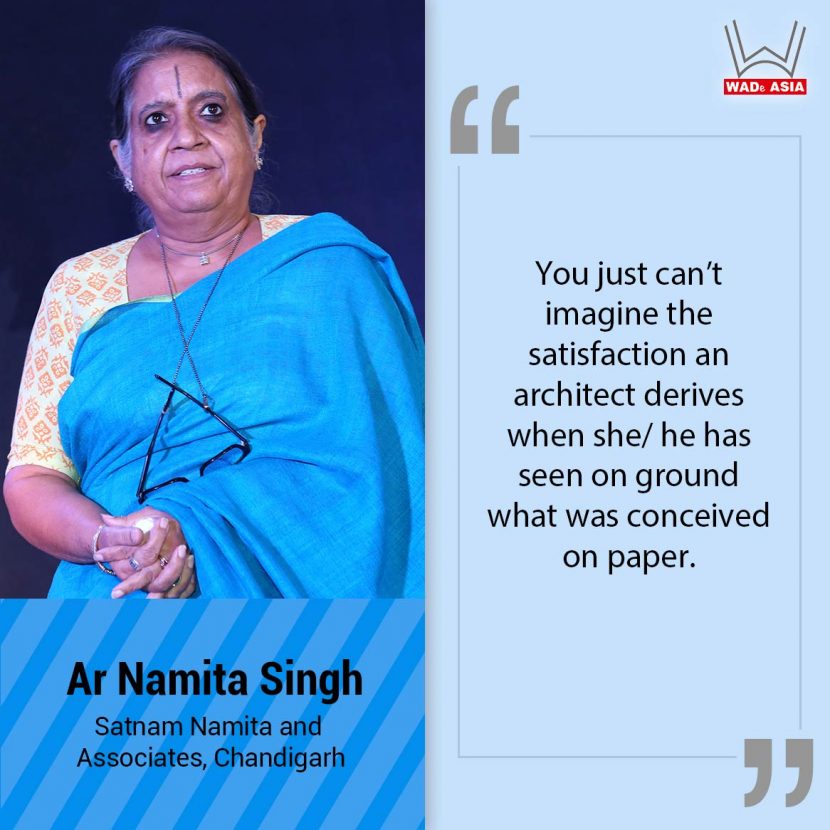 You just can't imagine the satisfaction an architect derives when she/ he has seen on ground what was conceived on paper.
The past decades hold witness to the exceptionally challenging journey women have made in a field like architecture that was precisely dominated by their male counterparts. Architect Namita Singh is one of those very few groundbreaking women, who made a mark amidst these challenges. In an interview with a leading publication, she had said, "I was brought up by very progressive parents who always insisted that it was merit that mattered, not gender. So, even if men didn't take me seriously, it didn't matter to me." The lady with radiating poise, serenity, and modesty has definitely a fearless dreamer inside.
When she first time entered the world of designing buildings in the 1970s, she had dreams of leaving an indelible mark with her sharp and profound insight. "I always wanted to do something different and make a name for myself," she said. The dream came true in 1989 when she got the opportunity to design the Indian Naval Academy at Ezhimala, Kerala, that was inaugurated in 2009 by the then Prime Minister, Manmohan Singh. More than 100 architects and engineers were hired by her firm, Satnam Namita and Associates, for the project.
She joined her husband's firm, Satnam Namita and Associates soon after her graduation in 1970. She shares, "He was very good at bagging projects and I was good at design. So altogether we both were a great team!" After the death of her husband, she continued working with her sister and worked on several notable projects, such as the special installation at Anandpur Sahib, INHS Ashvini Hospital in Mumbai and the Congress Bhavan in Chandigarh, to name a few.
The Indian Naval Academy at Kerala was a 700 crore, national two-stage competition project conducted by the Ministry of Defense. The project involved creating an almost 'township on 2500 acres of barren land' and including programme requirements of an academic complex, an Olympic-size swimming and diving pool, parade ground, auditorium accommodation for staff, hospital, market, complexes etc. Based on the architecturally inspiring city of Chandigarh, she is one of the first few in India, who is not only respected by the industry, but also admired by all for her inspiring journey.
'Obsessive' as she likes to term it, reaching out to a span of almost five decades, her contribution towards adorning the city of Chandigarh with a number of landmark projects, led her to being nominated for the prestigious Padma Shri in 2015. While designing the city, Namita diligently stuck to her design elements and kept the projects close to nature, successfully retaining the natural beauty of the site by designing in accordance to the natural topography in traditional architectural styles and using natural resources.
Namita is endowed with several architecture awards – Kalpana Chawla Excellence Award in 2009, nominated for Padma Shri in 2015 for creating, sharpening and adorning the heritage of Chandigarh, WADe India Lifetime Achievement Award in 2018, to name a few. Her architectural experience is profoundly vast, including, institutional, residential, hospitality, office and commercial complexes. She says, "It's like delivering a baby. You just can't imagine the satisfaction an architect derives when she/he has seen on the ground what was conceived on paper. I fall in love with each of my projects and take every one of them as a challenge."
She is also appointed as a member of a committee by the Government of the UT of Chandigarh to create a Master Plan for the city until 2030. "The designer of Chandigarh, Le Corbusier, wanted to have a green buffer in and around the town. Our urban planners could not anticipate the changing requirements due to demographic changes. The cemented growth in and around Chandigarh has ruined the beauty envisaged in the original master plan," according to her interview published in Business Standard.
Such a powerhouse of dedication, talent, passion and commitment, having crossed each barrier by her sheer brilliance is indeed an inspiration for many to come. "I make spaces for people. For me, the functionality of the design for the end user is very important," she says.
About WADE Asia Conference & Awards
WADE ASIA is one of the most prestigious national conferences on Architecture, Design, Art and Engineering and the largest platform for women in design in Asia.
The 5th celebration of WADE ASIA's annual event will take place on the 09-10-11/ October/ 2020 at the NSIC Grounds, New Delhi with participation from INDIA and SOUTH EAST ASIA.
It happens concurrently with MATECIA Building Material Exhibition and IIR Conference & Awards. If you are working for the built environment or building material industry, you should NOT MISS attending WADE ASIA.
WADE has created a World Record in 2018 for the Largest W shape created on ground by all women, awarded by ASIA BOOK OF RECORDS.
Check out the photos of WADE ASIA 2019
A mega success story Check out WADE ASIA & IIR 2019 in a video
Here is a video that talks about the purpose of WADe ASIA.