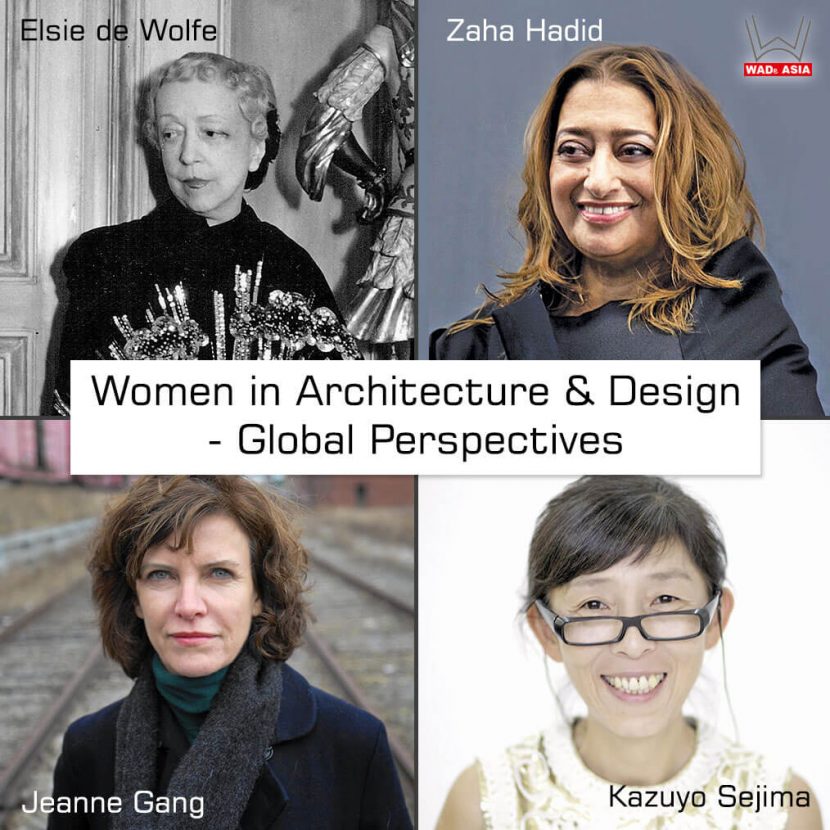 Women have come a long way from where they had started in architecture & design. Among the early examples are the two European women playing an important part in architecture, designing & defining the development of buildings under construction. In France, Katherine Briçonnet (ca. 1494–1526) was influential in designing the Château de Chenonceau in the Loire Valley, supervising the construction work between 1513 and 1521 and taking important architectural decisions while her husband was away fighting in the Italian wars.
In Britain, there is evidence that Lady Elizabeth Wilbraham (1632–1705) studied the work of the Dutch architect Pieter Post as well as that of Palladio in Veneto, Italy, and the Stadtresidenz at Landshut, Germany. She has been put forward as the architect of Wotton House in Buckinghamshire and of many other buildings. It has also been suggested that she tutored Sir Christopher Wren. Wilbraham had to use male architects to supervise construction work. There is now much research including that by John Millar to show she may have designed up to 400 buildings including 18 London churches previously attributed to her pupil Sir Christopher Wren.
Towards the end of the 18th century, another Englishwoman, Mary Townley (1753–1839), tutored by the artist Sir Joshua Reynolds, designed several buildings in Ramsgate in south-eastern England including Townley House which is considered to be an architectural gem.
The daughter of a French-Canadian carriage maker, Mother Joseph Pariseau (1823–1902) was not just one of the very earliest female architects in North America but a pioneer in the architecture of the north-western United States. In 1856, together with four sisters from Montreal, she moved to Vancouver, Washington where she designed eleven hospitals, seven academies, five schools for Native American children, and two orphanages in an area encompassing today's Washington State, northern Oregon, Idaho, and Montana.
There is now much research including that by John Millar to show Lady Elizabeth Wilbraham may have designed up to 400 buildings including 18 London churches previously attributed to her pupil Sir Christopher Wren.
Louise Blanchard Bethune (1856–1913) from Waterloo, New York, is said to be the first American woman known to have worked as a professional architect. In 1876, she took a job working as a draftsman in the office of Richard A. Waite and F.W. Caulkings in Buffalo, New York where she worked for five years, demonstrating she could hold her own in what was a masculine profession. In 1881, she opened an independent office partnered with her husband Robert Bethune in Buffalo, earning herself the tile as the nation's first professional woman architect. She was named the first female associate of the American Institute of Architects (A.I.A.) in 1888 and in 1889, she became its first female fellow.
Since architecture became organised as a profession in 1857, the number of women in architecture has been low. Some early women had struggled to make a place for them as successful ones. Both Julia Morgan and Ethel Charles went through setbacks and rejections but were firm in pursuing the career of their choice.
Julia Morgan (1872–1957) was more successful as she was the first woman to receive a degree in architecture from the École des Beaux-Arts. She was initially refused admission as a woman in 1896 but reapplied and was successfully admitted in 1898. After graduating in 1901, she returned to California where she had a prolific and innovative career, blazing new paths professionally, stylistically, structurally, and aesthetically, and setting high standards of excellence in the profession. Completing over 700 projects, she is especially known for her work for women's organizations and key clients, including Hearst Castle in San Simeon, considered to be one of her masterpieces The first woman to be admitted to Britain's Royal Institute of British Architects (RIBA) was Ethel Charles (1871–1962) in 1898. She and her sister Bessie were both trained as architects under the partnership of Ernest George and Harold Peto. In 1893, they both attempted to continue their training by attending the Architectural Association School of Architecture but were refused entry. Ethel completed part of the course offered by the Bartlett School of Architecture, receiving distinctions.
There is an interesting instance to share regarding Katherine Cutler Ficken (1911–1968) who was an American architect said to be the first woman to be licensed as an architect in Maryland. One of her clients was the University of Maryland, yet despite her clearly established capabilities and credentials, being a woman presented significant challenges in her professional life. When she asked to attend a dinner and annual meeting hosted by the Maryland Society of Registered Architects, she received a letter from the organisation's President, still on the fence about whether to accept her request.
Several women architects have had considerable success in recent years, gaining wide recognition for their achievements. In 2004, the Iraqi-British architect Zaha Hadid became the first woman to be awarded the Pritzker Prize. In 2007, Anna Heringer (born 1977, Germany) won the Aga Khan Award for Architecture for her METI Handmade
School built with bamboom and other local materials in Rudrapur, Bangladesh. In 2010, Kazuyo Sejima from Japan became a Pritzker Prize winner in partnership with Ryue Nishizawa. In the same year, as per records, Sheila Sri Prakash was the first Indian Architect invited to serve on the World Economic Forum's Design Innovation Council, where she created the Reciprocal Design Index as a design tool for Holistically Sustainable Development. In 1992, she was a pioneer of environmentally sustainable architecture and said to have designed home with recycled material. And, of course, Jeanne Gang, the architect we admire for her Aqua Tower and more.
"A Century after her death, America's First Female Architect gets her due!" Zaha Hadid
Louise Bethune, the first woman to be recognized as a professional architect, was buried next to her husband in Buffalo, New York's Forest Lawn cemetery following her death in 1913. For some reason, her family included only her husband's name on the gravestone. 100 years later, in honor of her early contributions to the field of architecture, the Buffalo and New York State chapters of the American Institute of Architects and the Buffalo Architecture Foundation decided to place a memorial marker on her grave.
Interior Design
Interior designing in general has a very old history; however the profession seems to have got organised only around 1920s to 30s. In US, the largest professional organisation in the field at the time, American Institute of Interior Designers (AID) was founded in 1931. As with almost all professions, women in the universe of design have historically struggled to find a place at the table. The American Institute of Architects counted 83,000 members at the end of 2012, yet only 18 percent are women. In contrast, according to Interior Design's recent Universe Study, of the 87,000 interior designers in the United States, a whopping 69 percent are women.
Women have been leading and are definitely taking the lead in the field of interiors!
In America, Candace Wheeler was one of the first woman interior designers who helped to encourage a new style of American design. She was instrumental in the development of art courses for women in a number of major American cities and was considered a national authority on home design.
In 1905, Elsie de Wolfe obtained her first commission as an interior decorator, and is identified as being the first interior decorator. In 1913, she goes on to publish the first recognized book on interior design "The House in Good Taste".
In England, Syrie Maugham became a legendary interior designer credited with designing the first allwhite room. Starting her career in the early 1910s, her international reputation soon grew; she later expanded her business to New York and Chicago.
Interior design was previously seen as playing a secondary role to architecture. It also has many connections to other design disciplines, involving the work of architects, industrial designers, engineers, builders, craftsmen, etc. For these reasons, the government of interior design standards and qualifications was often incorporated into other professional organisations that involved design. Organisations such as the Chartered Society of Designers, established in the UK in 1986, and the American Designers Institute, founded in 1938, were established as organisations that governed various areas of design.
About WADE Asia Conference & Awards
WADE ASIA is one of the most prestigious national conferences on Architecture, Design, Art and Engineering and the largest platform for women in design in Asia.
The 5th celebration of WADE ASIA's annual event will take place on the 09-10-11/ October/ 2020 at the NSIC Grounds, New Delhi with participation from INDIA and SOUTH EAST ASIA.
It happens concurrently with MATECIA Building Material Exhibition and IIR Conference & Awards. If you are working for the built environment or building material industry, you should NOT MISS attending WADE ASIA.
WADE has created a World Record in 2018 for the Largest W shape created on ground by all women, awarded by ASIA BOOK OF RECORDS.
Check out the photos of WADE ASIA 2019
A mega success story Check out WADE ASIA & IIR 2019 in a video
Here is a video that talks about the purpose of WADe ASIA.