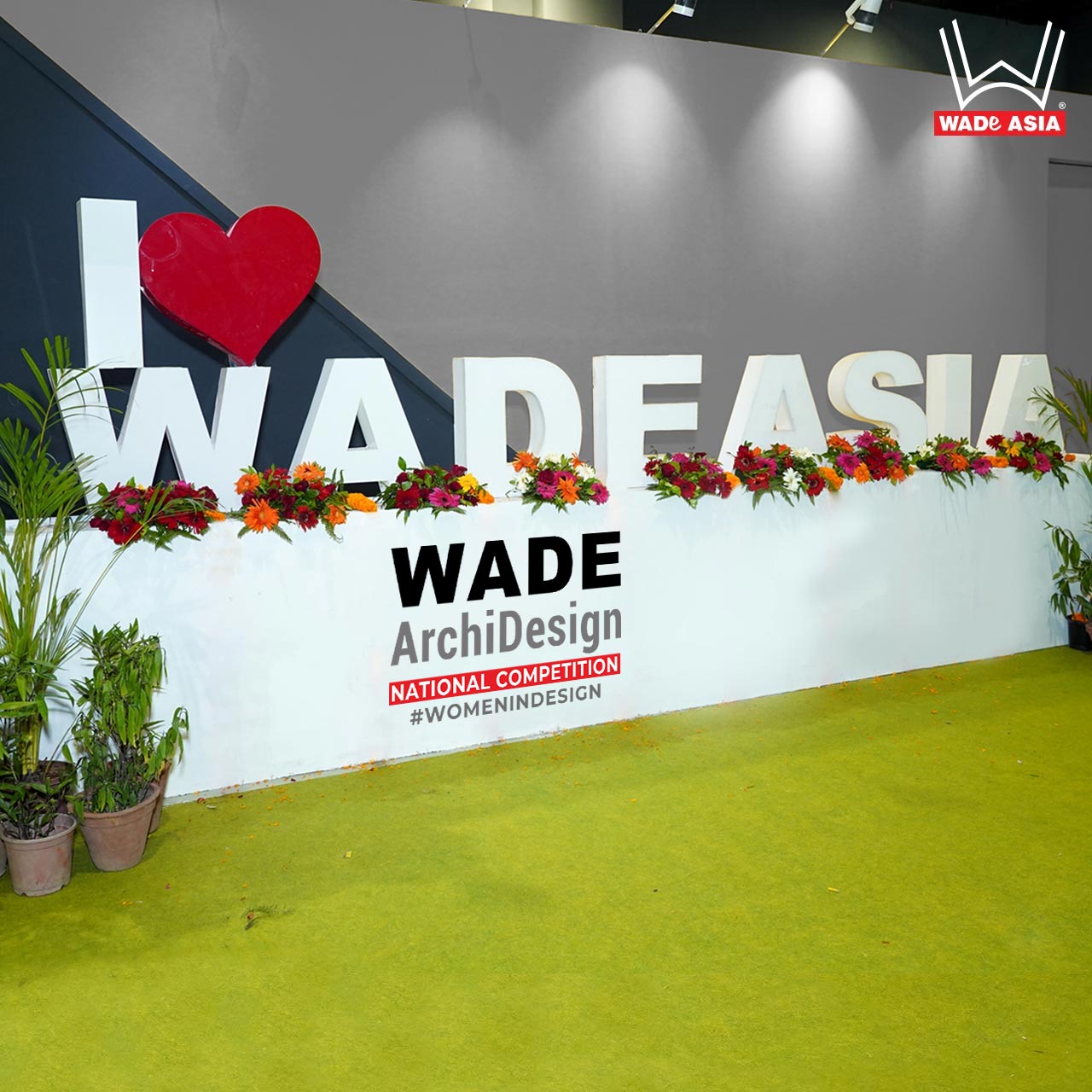 Largest Award Platform for Women in Architecture & Design, 22-23-24 September 2023, Pragati Maidan Delhi
20+ Categories | 1500+ Projects Submission | 100+ Jury | 250+ Shortlists | 18+ States of India Participation | 7 Presentation Halls | 25000+ visitors | 45+ Winners | 15+ Media Coverage
WADE ASIA had started in the year 2016 in New Delhi, India, with the three components:
Primary objectives were: one, a platform to recognize & celebrate women-led design and two, bringing the design community together through knowledge.
WADE ASIA Architecture Competition is for women participants while DESIGNS INDIA Conference and Workshops are open to all.
Today, WADE ASIA's Conference and National Competition are established and sought-after events counted among the most premium architecture & design affairs in India.
Categories
WADE ASIA ARCHITECTURE COMPETITION is a mega national event for women. The WADE competition gets a submission of 1000-1500 entries in 20 categories from 18+ states of India. It takes more than 6 months till the final presentation. The categories are as under:
Residential (Interiors, Architecture, Luxury)
Commercial
Hospitality
Best use of Colours
Best use of Lighting
Healthcare
Institutional
Young WADE Award (under 40 years)
Retail Design
Most Sustainable Projects
& more (shared in www.wadeasia.com)
WADE ASIA Architecture Competition is for women participants while DESIGNS INDIA Conference and Workshops are open to all.
WADE ASIA Awards through NOMINATION
WADE ASIA Lifetime Achievement Award
WADE ASIA Role Model of the Year Award
WADE ASIA Special Contribution Award
WADE ASIA Sustainability Champion of the Year
WADE ASIA Comeback Champion Award
WADE ASIA Civil Engineer Award
WADE ASIA Academia Award
WADE ASIA Art Maestro Award
WADE ASIA Jury
The biggest contribution to the WADE ASIA initiative goes to the WADE JURY. So if you were a part of WADE JURY, be proud of yourself. WADE ASIA has the highest regards for you. More than 100 Judges proceed the presentations by 250+ participants from across India.
Here are some of the top names who have been part of the Jury.
Ar Christopher Charles Benninger
Brinda Miller
Ar Shirish Beri
Ar Dorji Yangki, Bhutan
Ar Jaisim Krishnarao
Ar Nela D'Zoysa, Sri Lanka
Ar Nitin Killawala
Ar Raman Sikka
Ar Anju Mala Pradhan, Nepal
Ar Shamit Manchanda
Ar Dean D'Cruz
And more
WADE ASIA Architecture Competition is for women participants while DESIGNS INDIA Conference and Workshops are open to all.
WADE ASIA Award Winners
WADE ASIA is top most prestigious award for women in design, architecture and built spaces which can be earned through competition or nomination. The award ceremony takes place on the second day after the completion of the presentations.
The highest award is WADE LIFETIME ACHIEVEMENT AWARD received by the then 88-year-old Didi Contractor Dharamshala, Ar Namita Singh Chandigarh, Ar Yasmeen Shariff Pakistan, Amla Ruia Mumbai and Ar Revathi Kamath (posthumously).
WADE Sustainability Champion is the second highest award received by Ar Sheila Sri Prakash and Ar Sonali Rastogi.
You will find the inspiring list of Top women WADE Awardees in the website www.wadeasia.com
Here are some of the comments from WADE winners through competition:
The 'sense of integrity' I had felt when I attended WADE 2022 was absolutely heart-warming. Such events need to be there in the narrative of growth of our civilization.
– Somya Sharma, Red Lotus Stories, Ahmedabad, Winner – Artist – Painting (Excellence)
I congratulate WADE ASIA for increasing their presence in Art. It is definitely building up a fraternity of Women practitioners.
– Nivedita Pande, N + U Design Studio, New Delhi, First Runner Up – Artist – Painting (Excellence)
WADE ASIA itself is an INTERACTION with the world around us. It is super productive for networking.
– Poojan Gupta, Student, Jaipur
WADE ASIA proves that women can come together with a single motive of growth and creation and set an example of being a strong entity recognized worldwide.
– Ketaki Poonawala, Ketaki Poonawala Designs, Pune
Events to celebrate the success of women are much needed becasuse Women in Design have always been considered a minority in a field that's dominated by men.
– Vina Verghese Biswas, VSPB ASSOCIATES, New Delhi
Wade Asia is a platform that opens up many opportunities and possibilities for collaborations
– Chaitra Saraf, Design Kacheri, Bangalore
WADe helped me to build confidence and inspired me to create good design. For a young architect like me, this award is an honour.
– Sethulakshmi, M TWOi Architects, Calicut
A platform for women in architecture & design to be celebrated, to take proud ownership & to be recognized of their work in a traditionally male dominated industry is praise worthy.
– Anupriya Subbian, Triple O Studio, Chennai
What distinguishes WADE ASIA Competition from the rest?
Firstly, WADE ASIA is created with a positive intent and clear objectives. Today, as events are mushrooming everywhere, a platform like WADE ASIA for architects and built community becomes even more special.
A quick look at some numbers across 4 editions:
50000+ Visitors witnessed WADE Event
6000+ Women Designers' Projects in the repertoire
1000+ Shortlisted Top Projects by women documented
900+ Women Designers from 18+ States Presented at WADE
500+ Jury Members contributed
200+ Women won through National Competitions
WADE ASIA is the world's largest award platform for Women in Interior Design & Architecture. There is no such event across the globe that celebrates Women-led Development in this large scale and fervor.
Participation from 20+ STATES of India
Delegates & SPEAKERS from London, Singapore, Dubai, Nepal, Bhutan, Bangladesh, Indonesia, Sri Lanka, and more
The concurrent exhibition MATECIA in 2.5 lac sqft adds more visibility to WADE ASIA
250+ Companies showcase their products
WADE is the meeting ground for MENTORSHIP where young Designers meet Top ones.
WADE MATERIAL WORKSHOPS encourage hands-on experiences
INNOVATIVE PRODUCTS get opportunity for showcasing
Concurrent Events
WADE ASIA National Architecture Competition happens concurrently alongside:
Some of the key past speakers of the DESIGNS INDIA Conference are:
Rajeev Talwar from DLF, also Chairman, NAREDCO (National Real Estate Development Council)
Ar Raj Rewal the legendary architect
Padma Bhushan Rajeev Sethi, the curator behind Mumbai's T3 Art transformation
Didi Contractor, the then 88-year-old woman who was building with mud & natural materials in the foothills of Himalayas
Ar Christopher Charles Benninger
Ar Shirish Beri
Najma Heptulla, Former Deputy Chairperson of Rajya Sabha and Governor of Manipur
Ar Jaisim Krishnarao
WADE ASIA Architecture Competition is for women participants while DESIGNS INDIA Conference and Workshops are open to all.
WADE ASIA DESIGNS INDIA CONFERENCE is frequented by personalities from the Design, Architecture, Government, Hospitality, Real Estate, Fashion, and Bollywood domains. Sussanne Khan and her mom Zarine Khan, Actress Bhagyashree, Singer Hema Sardesai, Celeb Anchors Hussain Kuwajerwala, Mandira Bedi, and many have actively participated at WADE. Likewise, great contribution and knowledge sharing was received from the stalwarts in design like Sonali Rastogi, Bobby Mukherjee, Sanjay Puri, Kohelika Kohli, Pallavi Dean, Yatin Patel, Anupama Kundoo, Shabnam Gupta, Raman Sikka, Nilabh Nagar, Fahed Majid, Sonali Bhagwati, Sachin Bandukwala, Sumessh Menon, Sheila Sri Prakash, Dpien Gada, Alfaz Miller, Manjeet Bhullar, Annkur Khosla, Sita Nanda, Sunita Kohli and more.
WADE ASIA Architecture Competition is for women participants while DESIGNS INDIA Conference and Workshops are open to all.
WADE ASIA Scale and Coverage
WADE ASIA Conference and Architecture Event attracted delegates and speakers from Dubai, Bangladesh, Singapore, Indonesia, London, Nepal, Bhutan, Malaysia, Indonesia, and more.
Economic Times, India Today, Outlook, Hindustan Times, ET Now, ZEE Business, Dainik Jagran, and NDTV are some of the many media houses that has covered WADE ASIA architecture events.
WADE ASIA Architecture Competition is for women participants while DESIGNS INDIA Conference and Workshops are open to all.
The conference happens concurrently with WADE ASIA Architecture Competition for women in architecture & design and MATECIA Exhibition, giving more power to each and generating more participation and visibility.
WADE ASIA is supported by various associations like IIID (Institute of Indian Interior Designers), IIA (Indian Institute of Architects), SONA (Society of Nepalese Architects), BIA (Bhutan Institute of Architects), WISE INDIA (Women in Science & Engineering), Council of Architecture, CAPIXIL, Builders Association of India, and more.
Knowledge Partners of the conference are SURFACES REPORTER® and FDT Magazine.
What is there for Supporting brands?
WADE ASIA and the concurrent events MATECIA EXHIBITION, India Interior Retailing (IIR), Furniture & Hardware Conferences bring the community of architects, designers, builders, hospitality leaders, dealers & distributors, showroom owners, corporate buyers, importers and consultants together in one platform for 3 days.
Connect with the stakeholders and build connections
Present your products
WADE is a great chance for highest visibility
Opportunity for thought leaders to speak and share their voice
It is an opportunity for brands to differentiate from the rest
WADE presents opportunity to amplify your brand messages and impress the target groups
Create experience zones with products & applications
Present your innovative products at MATECIA Innovation Zone
Make architects familiar with the application through workshops
100's of journalists & bloggers visit WADE and associated events. It is an opportunity to be noticed in the best way.
Lots of Branding Opportunities
Drop a mail to madhu@wadeasia.com and we will get back